Increase Your Skills | Increase Your Pay
As a skilled tradesman, you want to take pride in the quality of work you perform but you also want to provide a better life for your family. The Systems Welder Training Program allows you to achieve both. Not only does our program provide a way for our employees to better themselves and their careers, it also ensures that Systems provides a competent workforce that maintains an unsurpassed, consistent level of quality and safety for our customers.
Systems Welder Training Program Highlights:
Based on the Nationally Recognized NCCER Curriculum
Facilitated by Seasoned Welding Instructor Stuart Dufrene
Any Systems Employee is Welcome to Participate in the Program
Excellent Opportunity for any Craftsman Seeking NCCER Certification*
Multiple Welding Techniques Are Learned During the Course of the Program
*This opportunity is only presented to current Systems employees.
``At Systems we are always striving to improve and stay ahead of the game.``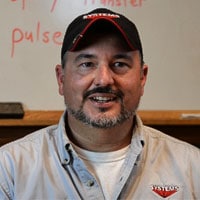 Stuart Dufrene
Search Open Jobs
You must be a current Systems employee to qualify for the Welder Training Program.

[alpine-phototile-for-picasa-and-google-plus src="user_album" uid="the.systems.group.biz" ualb="6231530822387252129" imgl="fancybox" style="wall" row="4" size="220" num="20" shadow="1" border="1" highlight="1" curve="1" align="center" max="100" nocredit="1"]
Discover More:
Check out this video to learn more about the Systems Group, our divisions, and what you can accomplish with our company.
OUR EMPLOYEES MAKE THE DIFFERENCE
Interested in a career with The Systems Group? We Need YOU!
Search Job Openings