Systems Spray-Cooled™ Mission
Let us introduce the many beneficial results of using our Spray-Cooled™ technology in your shop.

Advantages
Applications
Systems Fab & Machine Mission
Systems Fab & Machine is a CWB and AISC Certified Fabricator with the experience and capabilities to handle all types of fabrication & machining projectings.

Fabrication
Certified Welders
Exotic Metals
Tube Bending
Machining
CNC Milling
CNC Drilling
Plasma Cutting
Threading
Keyways
Systems Contracting Mission
Systems Contracting is a well-rounded construction firm with experience in industrial, municipal and commercial construction markets.

Specialties
Systems Plant Services Mission
Whether you need Systems Contracting to augment your staff or contract your total maintenance operations, maintenance and repair is a vital service offered by Systems Contracting.

Industries Served
Slag Processors
Steel Processors
OSB Mills
Stainless Steel Mills
Cold Rolling Mills
Power Plants
Pipe & Tube Mills
Pulp & Paper Mills
TSG Missions Brochure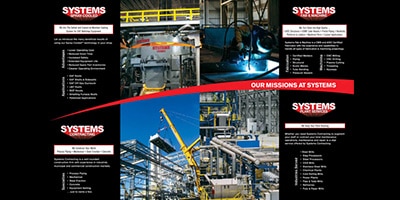 Our Missions at TSG
An overview of our promise to our customers and our division missions, where Safety is JOB ONE.
Our Employees Make the Difference