El Dorado, AR, August 14, 2015:
Representatives of The Systems Group and the Hays family donate $250,000 in honor of Charles A. Hays to help fund construction of the new South Arkansas Community College Advanced Manufacturing Training Center, which will break ground later this month. Hays, who founded The Systems Group more than 40 years ago, died in January, living to see his company go international. The business performs industrial construction, industrial plant maintenance and steel fabrication, and sells patented electric arc furnace cooling components used in steel mills in 17 countries around the world.
The new training center will house the process technology and industrial technology programs and be located on the East Campus. It will include a 3,600 square foot covered bay for the college's new tanker and railcar training program, a covered area outside for hand-tool and welding training, three furnished classrooms, four offices and storage space. In addition it will have a 60'x60′ reconfigurable bay to house properly the hands-on-training unit (which was funded by the city of
El Dorado
) as well as other training equipment.
This new facility will help support the needs of the area's industries. It will be used for both credit and non-credit instruction and training of students in a number of manufacturing programs.
---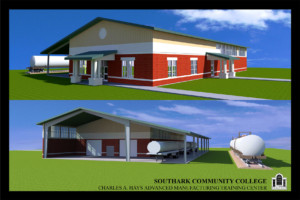 For further information, contact The Systems Group, P.O. Box 11390, El Dorado, AR 71731; phone: 870-862-1315; email:
info@tsg.bz
, web:
tsg.bz
.